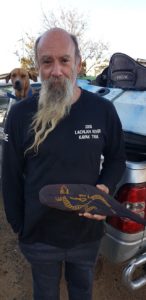 How long have you lived in Forbes and what do you like about living here? I have lived in Forbes for three years. I like Forbes because the people are so friendly and I love the Lachlan River.
Where do you work and what do you enjoy about your work? I'm semi-retired. I do a lot of voluntary work just to help the community out.
What do you do to unwind after work or on weekends? I hang around our little farm, or go bush walking or climbing the hills.
What are you really good at? Fishing and kayaking.
If you could have a super power, what would it be? Probably go back in time and fix some of the problems that would allow us to live in a better place today.
What is your pet hate? Bullying and backstabbing.
Tell us about your best holiday ever. My honeymoon 15 years ago at Forster.