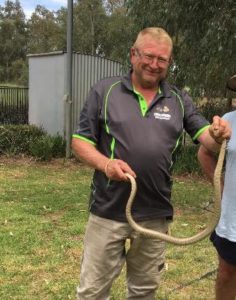 How long have you lived in Forbes and what do you like about living here? I have lived here all my life and I like Forbes as it is a great town.
Where do you work and what do you enjoy about your work? I work at the Rattery in Forbes (we supply rodents for pet food). I enjoy working with my work mates.
What do you do to unwind after work or on weekends? I love to unwind with a few beers and a BBQ.
What are you really good at? I'm really good at catching snakes.
If you could have a super power, what would it be? My super power would be to see into the future.
What is your pet hate? Garden hoses kinking up.
Tell us about your best holiday ever. A visit to Darwin is a favourite!