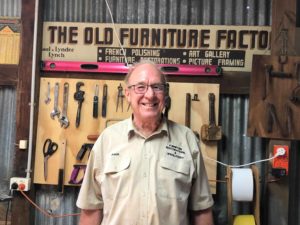 How long have you lived in Forbes and what do you like about living here? My wife and I moved to Forbes in November last year from Mudgee. We both really enjoy the history of Forbes and the surrounding towns, as well as the very friendly people.
Where do you work and what do you enjoy about your work? I am a French Polisher by trade and work for Lyndee Lynch at Forbes Furniture Restorers. She is a hard but fair boss.
What do you do to unwind after work or on weekends? I work in a tin shed so a cold beer after work is good. Also watching live sport and bush walking.
What are you really good at? I consider myself a Master French Polisher. I completed my trade in 1974 and have been working in this industry ever since.
If you could have a super power, what would it be? Besides being able to make it rain, world peace would be good.
What is your pet hate? Littering.
Tell us about your best holiday ever. Travelling anywhere in the Outback is great. The South Australian coast is fantastic too.