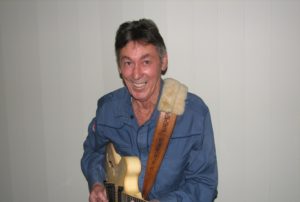 How long have you lived in Forbes and what do you like about living here? I was born in Forbes but spent many years travelling Australia for music. As well as being my home town, Forbes is a pretty place with its lagoon and the Lachlan River. It's not crowded but still has most of my needs.
Where do you work and what do you enjoy about your work? I've worked most of my life as a musician, as well as bush work and have been lucky to love what I do.
What do you do to unwind after work or on weekends? I enjoy fishing as a way to relax and unwind. I also enjoy spending time with family and friends and travelling to different places.
What are you really good at? I was never very good at school so I had to find something else I could do. It turned out to be music and bush work!
If you could have a super power, what would it be? If I could have a super power, I'd like to live for a thousand years with perfect health. One lifetime's not enough.
What is your pet hate? My pet hate is mornings… I've never been a morning person. don't like the freezing cold and also not being my own boss.
Tell us about your best holiday ever. Travelling the Kimberley's in Western Australia ith friends, my sister and brother inlaw. also loved travelling Tassie.