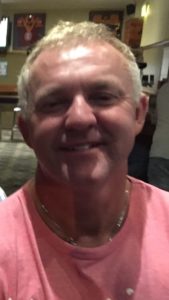 How long have you lived in Forbes and what do you like about living here?  I have lived in Forbes for 35 years now. I love the community and its great people.
Where do you work and what do you enjoy about your work? I have my own quarry. I love the outdoors and being my own boss.
What do you do to unwind after work or on weekends? I don't like a lot of time off or too much time to think…but I do love to spend time with my three beautiful daughters.
What are you really good at? Not really good at much but I'm not a bad quarryman.
If you could have a super power, what would it be? If I had a super power, it would be to bring my beautiful Kristie back to us but I can't, so I'd settle for being able to eradicate all cancers and stop the tragedy and heartbreak that goes with it.
What is your pet hate? My pet hate, hmmm…that would be how Australia is regulated by overeducated, inexperienced people in way too highly paid, underachieving positions of power.
Tell us about your best holiday ever. My best holiday was every holiday I ever had with my amazing family.