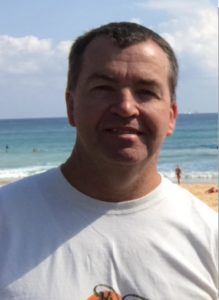 How long have you lived in Forbes and what do you like about living here? I have lived in Forbes all my life, which is over 50 years. I love the easy going lifestyle and the friendly people.
Where do you work and what do you enjoy about your work? I work at St. George Bank in Rankin Street. I have been there for over 14 years and really enjoy the day to day interaction with our customers and also working with a wonderful team.
What do you do to unwind after work or on weekends? On weekends I just love to unwind by poking around home, doing odd jobs, spending time with my family, reading, walking or watching a good movie, cricket or football.
What are you really good at? I'm one of those 'jack of all trades, master of none' types, but some people think I play the guitar fairly well.
If you could have a super power, what would it be? I'd love to be able to eat and drink what I want without putting on weight.
What is your pet hate? Technology. Mobile phones have taken over our lives.
Tell us about your best holiday ever. Anywhere coastal but Coolangatta is a particular favourite of ours.