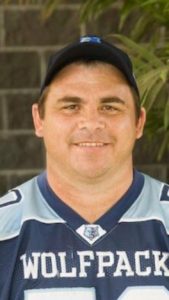 How long have you lived in Forbes and what do you like about living here? I lived in Forbes until I was 18, then lived in Campbelltown and Canberra for about 15 years and came back to Forbes. I like the easy going pace and laid back atmosphere.
Where do you work and what do you enjoy about your work? I work in a government job. I like it because there is something different every day.
What do you do to unwind after work or on weekends? I enjoy watching my daughter play soccer and being involved with the local rugby league.
What are you really good at? I used to be ok with rugby league now I'm just good at watching.
If you could have a super power, what would it be? I would like to be able to time travel… would like to solve a few mysteries.
What is your pet hate? Caravans on a busy highway.
Tell us about your best holiday ever. My best holiday was with my family going to all the theme parks at the Gold Coast.