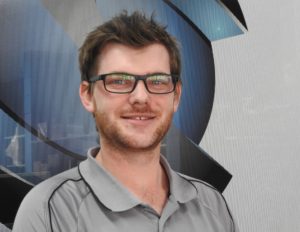 Shaun Howlett
How long have you lived in Forbes and what do you like about living here? I have lived in Forbes going on 8 months now, but I've built up my career in Forbes over the last 9 years.
Where do you work and what do you enjoy about your work? I work with the amazing team at Steele Technology. Nathan and Noami are gracious employers, they treat you more as family than as a colleague.
What do you do to unwind after work or on weekends? When I'm not playing computer games, I'm out with mates on the longboard or getting out on the dirt bike. The occasional game of paintball is always welcomed – the bruises they leave are not!
What are you really good at? I'm not usually 'really good' at anything in particular, but I can generally do 'just okay' with anything I put my mind to.
If you could have a super power, what would it be? The ability to read people's minds.
What is your pet hate? 'Please' and 'thank you' go a long way. I miss 'common sense'  appears it's not very common any more.
Tell us about your best holiday ever. Good ol' fashion road/camping trip around Australia with my mother, sister and grandfather.