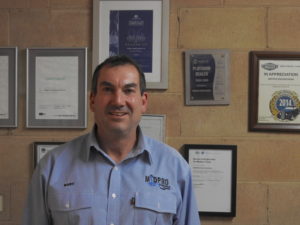 Ian Bartholomaeus
How long have you lived in Forbes and what do you like about living here?
Originally from Adelaide, I moved to Forbes in 1980. Being the "Centre of the Universe" why would you bother to live anywhere else? Great people and there's not much we go without in this great community. Life is what you desire wherever you choose to live.
Where do you work and what do you enjoy most about your work?
I'm the Managing Director of Midpro Engineering. I love my place in the business doing engineering designing and 3D solid modelling using Solidworks (CAD) as well as general business affairs, which select few really get to experience.
What do you do to unwind after work and on weekends?
I love to cook, which is quite dissimilar to my occupation, and also it takes a lot of beer and wine to put together a masterchef creation! It winds me down after a long hard-working week.
What are you really good at?
Everyone would probably say annoying people but I reckon I'm just good at being happy.
If you could have a super power, what would it be?
First thing I thought of is mind reading, but I think mystery is sometimes intriguing so I'd have to say being invisible.
What is your pet hate?
People doing 50 in a 100 zone, and that equates to anything in life.
What was your best holiday ever?
I've forgotten what a holiday feels like, but I love the coast and one of my favourite locations would have to be Noosa.