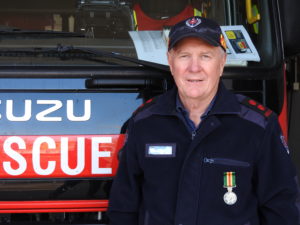 Brian Clarke
How long have you lived in Forbes and what do you like about living here?
I was born in Forbes and have lived here all my life. I like living in a country town. Forbes has a lot going for it. I like the sense of community and my lifelong friends.
Where do you work and what do you enjoy most about your work?
I retired from the Council in February. I'm still retained by the NSW Fire and Rescue at Forbes Fire Station. I like being able to do something for the community. Being a fireman can be a bit of a buzz. It's al- ways changing, and there's a real sense of achievement in being able to help. It's a privilege.
What do you do to unwind after work and on weekends?
I like meeting up with friends for a beer. I've taken up golf again after 30 years, I go and watch rugby union and rugby league.
What are you really good at?
When I was nominated for the Australian Fire Service Medal, the nomination referred to my leadership and mentoring skills. When I was awarded the medal and read the ci- tation I was a bit shocked because I didn't see myself that way.
If you could have a super power, what would it be?
I'd change the Australian political landscape, and the way politi- cians are doing things.
What is your pet hate?
South Sydney at the moment.
Tell us about your best holiday ever.
I went to New Zealand in 1974. I was three years out of school and went with a school mate. That was my first trip away, and I had the best time. I'm keen to go back there.