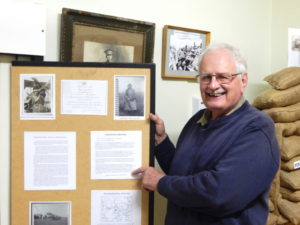 Bruce Adams
How long have you lived in Forbes and what do you like about living here?
I've lived in Forbes all my life, which is almost 75 years. I like the sense of belonging and community that we have here.
Where do you work and what do you enjoy most about your work?
I was a farmer until I retired about 20 years ago. Now I'm busy with voluntary work. I'm President of the Forbes Historical Society, and Secretary of the local Neighbourhood Watch, among other things. Meeting people and learning about the history of Forbes is what I enjoy most.
What do you do to unwind after work and on weekends?
I don't really stop. If I do, I might read a book. My wife, Margaret, and I also like to travel.
What are you really good at?
Probably organising people. I like bringing people together to get things done. It probably comes from being the eldest of five kids.
If you could have a super power, what would it be?
That's an interesting question. I think I'd like to be able to persuade governments to be more responsive to the will of the people.
What is your pet hate?
People who are intolerant of other people.
Tell us about your best holiday ever.
The most interesting holiday was our visit to Iran last year. The people were lovely, and we felt very included.