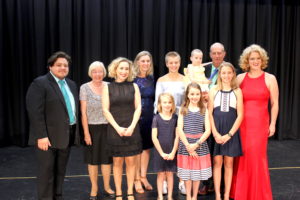 An audience of almost 300 people were treated to a unique and entertaining afternoon of opera in Forbes last Saturday and raising more than $14,000 for the Garland family.
The Opera for Ava fundraiser saw principal soloist for Opera Australia, Dominica Mat- thews as well as Diego Torre from Mexico and Kathleen Moore from Canada come together for an afternoon of top class singing.
It was a huge success! In glorious weather guests enjoyed background music provided by the Four Strings quartet, while enjoying canapés prepared by the Red Bend hospitality unit.
Sipping Millthorpe's Angullong champagne and wine, and boutique beers from Orange's Badlands Brewery, the 270 patrons from near and far enjoyed every minute in the lead up to the performance.
Diego, Dominica and Kathleen were absolutely captivating with their incredible voices, with arias from many classic operas such as La traviata, La boheme and Lakme.
After a short interval they switched to more contemporary tunes from shows including Carousel, Sweet Charity and Porgy and Bess. The singers then lifted the roof with their encore, Nessum dorma from the opera Turandot, no doubt a highlight for many. Accompanist Barbara Bruce was exceptional, remaining consistent throughout the whole performance.
MC Adrian Matthews (Dominica's brother) kept the ball rolling with a touch of hu- mour and his debatable Italian, as well as bringing several to tears as he described the Garlands journey so far and reminded everyone of the reason for the event.
It was fantastic to see plenty of locals turn out to support this family, but the calibre of the artists also attracted people from as far away as Dubbo, Cassilis, Griffith and Sydney! It was truly an afternoon to remember!
By Kylie Matthews