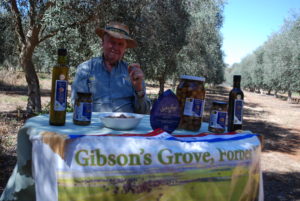 The owners of Gibson's Grove Olives just outside Forbes have been nurturing their olives with love and care for the past 21 years.
This devotion did not go unnoticed as the Manzanillo Hand Picked Olives of Greg and Clare Gibson have been named the Champion Olive product and won gold at the 2017 Sydney Royal Fine Food Show.
With 180 entries in the olive oil and olive section, the Gibson's Grove products were a stand out also being awarded silver for both their Paragon and Corregiolla olive oil and their Ligurian style table olives.
Entering for the seventh year, it is the third time that the Gibson's have won the champion product with the same olives.
Gibson's Grove Olives have 2,000 olive trees and produce about three different varieties. They bottle, cask and tin their oil on the property and cover an extensive boutique market. They supply from Forbes right through to Sydney including major hotels, restaurants and Qantas.
Explaining why Gibson's Grove Olives re so successful, Greg said: "We are a small boutique operation and can keep more control of produce. We do products naturally and don't use caustic soda. My wife and I do all the sorting ourselves."
With their friendly farming, care for the country side and hard work this husband and wife duo have grown their business into a nationally recognised award winning product.
By Gizell van Wyk