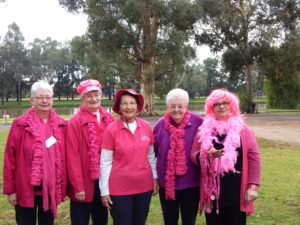 More than 50 people braved a chilly, wet morning in Forbes on Sunday to support the Mother's Day Classic fundraising walk for breast cancer research.
In pink t-shirts, wigs and tutus, walkers of all ages brightened Lions Park with their smiles and enthusiasm. Many were breast cancer survivors, and others had come in honour of friends and loved ones.
When you've been through tougher battles, a bit of rain isn't a problem.
"These girls are all survivors," said organiser Yvonne Shaw, referring to her fellow volunteers. "We're all happy to wear our pink shirts, and even if we only make ten dollars, that's ten dollars more that can help."
This year is the 20th anniversary of the Mother's Day classic in Australia, which has raised over $30 million.
It is the third year of the local event, which has so far contributed over $2,000 to the cause.
One of this year's largest donations came from the Forbes Breast Cancer Support Group, which offers support to women and men diagnosed with breast cancer.
Yvonne and fellow organiser Denise Jelbart are breast cancer survivors and mem- bers of the group, which Yvonne set up in 1992 while working as a women's health nurse.
Yvonne was later diagnosed with the disease at the same time as her daughter, Sandra, in 1998.
Denise wants people to know local support is available. "It is a frightening thing to be diagnosed with breast cancer, but if you have the support of your family, and if you do know a group it's good to be involved in that group. There are a lot of people out there who want to help you," she said.
The Mother's Day Classic is one of the group's biggest fundraising events, and Yvonne and Denise will run it again next year, rain or shine.
By Rochelle Bright