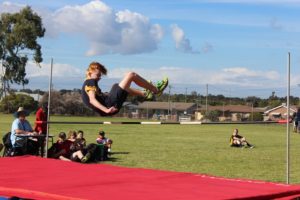 Two students from Forbes High School have leaped into the State Athletics Carnival to be held in Homebush this weekafter qualifying at the Western Combined High School Athletics carnival in Dubbo recently.
Year 8 student Tyrone Clothier and vice captain Elysse Girot-Serplet have qualified in high jump and long jump respectively.
Tyrone qualified first in high jump in his age division, while Elysse qualified second in long jump in her age division. This is a first for both students and a fantastic result for Forbes High School, which had eight students attend the Western CHS Athletics carnival in Dubbo this year.
Students were given an extra boost with the school being successful in obtaining a grant through Charles Sturt University's Rural and Regional Sports Development Program.
The funding supported the cross country and athletic competitors with travel this year to Western and State competitions. With distance and travel a challenge for many students in regional, rural and remote schools, this funding has been immensely helpful to students and families in providing opportunities and helping to reduce travel costs for families and students attending these events.
"Having two students reach state level for athletics is a fantastic achievement for our students and our school. Tyrone and Elysse should be extremely proud of what they have achieved so far," relieving Principal Jason Nottingham said.