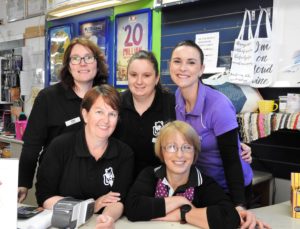 Gabe McMillan is a human dynamo. As a seasoned business woman, mother of four children under five, with a husband who also runs a business, she is celebrating ten years as the owner of Forbes' only newsagency. The Phoenix caught up with her to get the story.
"We made the decision to purchase the business and took it over in August 2007," said Gabe. "At that stage it was my two sisters and
I who came in to work the newsagency together. I had relocated to Forbes after working as a journalist in Dubbo."
The family decided on the newsagency because it was something that Gabe had experience in. She had been a junior retail assistant at News On Rankin while at school, and they felt they had a bit of knowledge going into it. But the reality was a bit different. "I probably thought I knew more than I did. And we probably weren't that prepared. With a business like this, and I've probably had these conversations often over the years, there's a lot involved in running a newsagency." "On the first day, the three of us made sure we were here at five o'clock in the morning to open the shop. My two sisters had absolutely no idea about lotteries or any idea of what was going to go into it."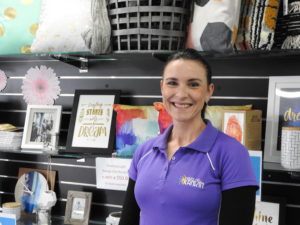 "The business had a lot of dated stock in it, so that was probably one of the biggest things that I would say that I noticed then, and it was just the feel of it. Straight away from the first day we realised that we really needed to make sure that we separated ourselves from our competitors and made sure that we had an offering that our competitors didn't."
"So we really started from that day about the welcoming, about the warmth of the store," said Gabe. From these beginnings, the business changed and expanded, and Gabe ended up on her own as her sisters pursued other things. "We've expanded our stationery area and our stationery lines for business customers. We now have a retail salesperson out visiting businesses at least three days a week. We offer discounts to business, and have strong relationships with businesses in Forbes as their stationery supplier."
"Toys have also been one of our biggest areas. Because Forbes doesn't have a toy store, we now find that parents really do look to us for all those small toys for birthday parties and things." Beginning with one full-time staff member, a couple of casuals in the afternoon, and one delivery driver, News On Rankin now has four full time staff, seven casuals, and two drivers.
Over the years they have employed over 100 people, including 40 junior staff who have benefited from the training and gone on to
achieve bigger and better things. Gabe sees News On Rankin as more than just a newsagency. "I prefer to think of us as a retailer. We offer all the mainstream newsagency products, as well as superior customer service. It's all about that personal relationship that we have with our customers."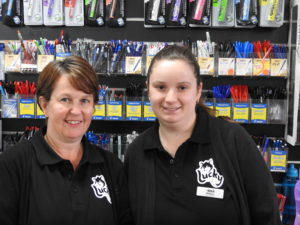 It hasn't always been easy. Gabe took over the business in the middle of a decade long drought, then the global financial crisis hit hard. They also experienced the two recent major flood events along with the rest of the community. Gabe says that "Business success is largely about showing resilience, and banding together with the community." "There's been lots of highlights, and lots of sleepless nights. A lot of stresses, I would never pretend that there wasn't, but the good things have far outweighed the bad during that time," said Gabe.
"The week before Christmas in 2015, we sold the division one winning ticket in Wednesday night Lotto. I think it was so exciting for us to finally sell a winning ticket, because when you sell as many tickets as I have sold over the last ten years it was really nice to get a winner. There was a lot of excitement in the town. But the best part is that, to this day, that winner remains anonymous."
Another highlight was winning the NSW newsagency retailer of the year award in 2012. "That was a massive achievement for us, and this year we were a regional finalist for the NSW Business Chamber which was an excellent achievement. It's a great accolade not just for myself but for all of the staff."
For Gabe, it's all about the people. "Over the last ten years I've loved getting to know the people who come in here. I've developed strong relationships with a lot of those people. And I've been fortunate to have a lot of loyalty shown to me by customers and staff in that time."
"The next five years, it'll be about looking at how we can continue our business and make sure we've got longevity. We ask the community to continue to support us, because while they continue to support us, we'll continue to be here."