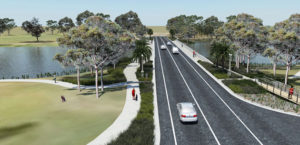 Roads and Maritime Services have invited the community to view the concept design for the new bridge across Lake Forbes which will replace the existing Camp Street Bridge at Forbes.
Parliamentary Secretary for Western NSW Rick Colless said the NSW Government has provided $500,000 to fund planning of the new bridge across Lake Forbes on the Lachlan Valley Way.
"An architect was engaged to design the new bridge, which includes landscaping suitable to the surrounding lakeside environment," Rick said.
"The lamp posts from the existing bridge, which was built in 1927, will be incorporated in the design to complement the town's heritage aesthetics."
"A new bridge is needed to meet current design standards and improve safety for motorists and pedestrians into the future as the existing bridge is narrow, in poor condition and nearing the end of its useful life."
"The project will involve building a new, wider bridge across Lake Forbes with wider travel lanes and pedestrian/cyclist paths."
A number of drop-in sessions are being held where the community can view the design for the new bridge and speak with the project team. Sessions will be on Monday, 9th October at 11am to 2pm and Thursday, 12th October at 4pm to 7pm at the Forbes Shire Council, also on Saturday, 14th October at 9.30am to 12pm at Lachlan Street Forbes (outside Bernardi's supermarket).
The bridge design can also be viewed at Forbes Shire Council and Forbes Library where it is on display until Thursday, 30th November.