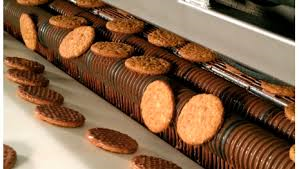 Leading disability services provider, House with No Steps will soon start construction of a new Aussie Biscuits factory in Forbes, which will increase employment opportunities for people with a disability.
Aussie Biscuits, which is one of nine businesses owned and run by House with No Steps, has been operating in Forbes for over 40 years and has developed a strong community presence. It provides not only employment and training opportunities for people with disability, but also the sense of connection, pride and independence that comes from working.
Last year, Aussie Biscuits received $210,000 from the Building Better Regions Fund towards a $456,000 project to scale up its operations.
Brett Lacey, House with No Steps Executive Director Businesses, said the new factory will create much needed employment opportunities for people with a disability in the area.
"Construction starting at our new location marks a new chapter for Aussie Biscuits. We will be able to bake more biscuits and deliver them to even more people.
"Employment opportunities for people with a disability are scarce in regional areas. We'll be able to provide additional opportunities for Australians living with disability in the Central West region of New South Wales," said Brett.
The fit-for-purpose factory will include new ovens, a specialised cool room and mixing room for biscuit production. Employees will also have access to a new lunch room and a welcoming reception area.
Matt Pronesti, one of 30 supported employees who works at Aussie Biscuits, has been with the company for 21 years. Construction starting on a new location has been a long time coming.
"I've worked here for 21 years. I do mixing, biscuit making and control the hopper in the oven, as well as some oven maintenance.  I love making biscuits. I'm looking forward to the new equipment so we can make even more biscuits," he said.
The new factory is located at Rankin Street, Forbes, across the road from Aussie Biscuit's existing factory. Construction starts on Monday, 7th May and is expected to be complete by late July.