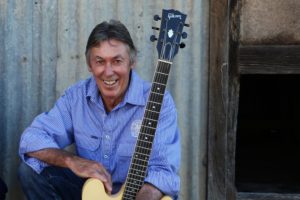 By pressing his handprint into a dedicated footpath, Forbes-born musician Nev Molloy will seal his legacy as one of the most influential music artists at the Tamworth Country Music Festival. He will be inducted into the Australian Country Music Hall of Fame and Hands of Fame Park this Saturday.
"I had my first band in Forbes at about 16 years of age. The band line-up in those days was my younger brother Bill on rhythm and vocals, Greg Cook on bass, Glenn Bentic on drums and I played lead guitar. We made the princely sum of $6 a night," said Nev.
Today, to list the people Nev hasn't appeared, played or toured with would be easier than listing the ones he has. Over the years Nev has been involved with most of Australia's greats.
In the early eighties, Nev went to Tamworth and did his first show with Slim Newton, and appeared with Barry Thornton on Barry's shows at the Oasis. He was also house guitarist for Rick (Ford) Aitchison's Cavelcade of country, backing almost every artist that appeared.
Nev spent a lot of time on the road with music over the years. He toured Queensland with Buddy Thompson and Lyne Bennett and toured with the Brian Letton show for about 23 years on and off, to date.
He also had his own recording studio in Broken Hill, recording many award winning albums for other artists.
By Gizell van Wyk