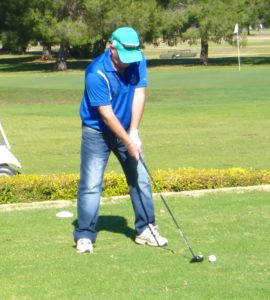 Saturday's Monthly Medal 18-Hole Stroke had a large field of 59 players, but the scores generally indicated many players needed a tune up.
The top story of the day goes to Max Haley who not only won the B-grade with the best score of the day, but nearly scored an eagle on the 15th. A wayward drive was followed by a lay-up to the middle of the fairway, but well short of the creek. His fairway wood arched past the trees, bounced on the front of the green and rolled, just skirting the hole to leave a 12" tap in birdie.
Tim West won the A-grade with 74 nett, one shot ahead of runner-up Mark Collits' 75 nett. For both it was a case of no real disasters. The B-grade went to Max Haley with 69 nett. Dave Earl was runner-up with nett 74.
In the C-grade Brett Slack-Smith scored nett 70, and runner-up was Geoff with 73 nett.
The ball sweep went to 76 nett on count back: 69 – M Haley; 70 – B Slack-Smith; 73 –GDrane;74–DEarl,TWest,PTisdell,S Bate, I Bown; 75 – M Collits, L Byrne; 76 – A Dukes, B Squires, J Betland, B Collie and P Cowhan. The NTP's went to: 9th – P Daw- son; 18th – B Chandler.
On Sunday 20 pairs competed in the 27- Hole Mixed Foursomes Championship in beautiful sunny weather with a crisp temperature.
Jean and Warwick Judge were nett leaders after 18 holes, with Stirling/Grierson on 91, only one shot ahead of Davidson/Nixon in the scratch. The best third 9-holes nett went to Scott/McDonald who 'came home with a wet sail' to score 31.75. The best 9-hole scratch went to Davidson/Nixon with their 45.
The final winners were Fran and Rich- ard Smith who took the 27-Hole Mixed Foursomes Handicap honours with a nett 112.5. Runners-up were Jean and Warwick Judge with 113.25 nett. An 18-hole playoff is needed to determine the Mixed Foursomes Scratch winners. Stirling/Grierson and Davidson/Nixon both finished on 137.
By Short Putt