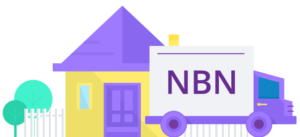 The arrival of the nbn network in Forbes will deliver huge opportunities for local homes and businesses to transform the way they operate.
A total of 3,100 homes and businesses in Forbes will be able to access the speedy nbn network via Fibre to the Node (FTTN) technology.
Mike Marom, Telstra Area General Manager for Northern NSW, said the nbn network is one of the most talked about digital developments to hit Australia, and its arrival in Forbes will mark the beginning of a new digital era.
"Individuals, communities and businesses are becoming increasingly digital-dependent. We're streaming more video content than ever, uploading huge amounts of data and, by 2021 households are expected to own an average of 30 connected smart devices.
"It means one of the kids will be able to stream Netflix on the tablet while another watches a movie on the Telstra TV, and the Buy back items made from recycled materials parents can be working online on the laptop, all at the same time with a reliable connection," explains Mike.
Telstra is also reminding those living and working in Forbes that switching to the nbn network will not happen automatically. Customers will have 18 months to contact their network provider to arrange moving across to the new network, after which existing landline, data and internet services will be disconnected
"We want everybody in the Forbes area to be able to start benefitting from the nbn network as soon as possible. So, now is the time to speak to your network provider about starting the switch on process," said Mike.
To find out how to switch to the nbn network visit telstra.com/nbn. Telstra's NBN Experience Van will be in Forbes from Tuesday, 17th till Friday, 20th October from 9am- 5pm daily, Victoria Park, Harold St Forbes.