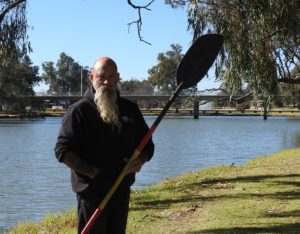 Local Wiradjuri Ranger Peter White will spend 16 days kayaking on the Murray River as part of the Australian Horizon Foundation's 2017 Mighty Murray River Kayak Trek, starting on 2 September.
Peter will be supporting Kev Cook from South Australia who is undertaking the 2500 kilometre trek from Bringenbrong Bridge to Gulwa, South Australia, to raise funds for and awareness of mental health in rural communities.
Peter has been given permission by the Wiradjuri Elders to carry a Message  Stick during his journey.
"I've seen the Wiradjuri elders, who are my elders, about giving Kev a Message Stick to take down, which will be the first time it's ever been down the length of the Murray.
"I'll carry that for the first leg of the trek to Echuca, where I'll hand it over to Kev to carry to the end. I'll do the last four or five days of the trek with him, too, and be in Gulwa to receive the Message Stick again, and I'll return it to the elders as a keepsake," said Peter.
Peter needs to raise $2,000 to help him along and is hoping for support from local people and businesses.
He is putting up his car panels for business signage for 12 months. The sides of Peter's kayak also available as signage space.
If you can help, please call Peter on 0477 639 640, or visit his Go Fund Me page at https://www.gofundme.com/2017mightymurrayrivetkayaktrek