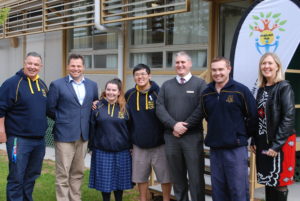 Forbes High School proudly welcomed Local MP for Orange, Philip Donato, to its Wellness Hub on Tuesday.
The school was keen to show off the difference the hub has made in the students' and community's lives since its official launch in March this year with over 400 appointments made per term.
"I'm super impressed. It's a one-stop shop for the wellness and wellbeing of students and their family members," said Philip. "There's a whole array of support agencies and services looking after their best interests.
"Students these days have particular challenges, whether it's home life, anxiety over their HSC or all sorts of issues. It is fantastic that they're able to go to a safe place in the school discreetly, and be able to get expert professional advice at the drop of a hat. Full credit to Forbes High School for getting this initiative off the ground."
Referring to the high number of appointments made per term, Head Teacher of Wellbeing Justin Hoy said it was fantastic to see such a strong self-referral by students. "We're making a real difference."
The hub offers support and counselling to families five days a week. Domestic violence and nutrition are among the complex issues that students can receive support in. Aboriginal Education Officer for the school, Barry Merritt is hoping this initiative will help more students stay in school.
Philip said the Wellness Hub was a wonderful initiative to support education holistically.
By Gizell van Wyk