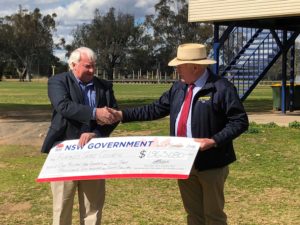 Parliamentary Secretary for Western NSW, Rick Colless on Wednesday announced funding of $1,963,680 to breathe new life into community and local sporting facilities across the Forbes Shire Council area. This comes through round two of the NSW Government's Stronger Country Communities Fund.
Forbes Shire Council secured NSW Government funding for four projects which include upgrades and funding to community services, sporting and community facilities.
Rick said country communities are the backbone of our state, and by investing funding into much needed projects such as these, we are making our regional economies and state stronger.
"Local projects make a huge impact on communities and can have a huge impact on boosting local business and community cohesiveness.
"Under this initiative projects range from small to large and each one is as important as the other. Every project is about bolstering our country areas and ensuring they continue to grow and contribute to our state.
"This program is about bringing communities together, strengthening and supporting our social connections, and creating vibrant rural and regional communities for the future," said Rick.
Mayor of Forbes Shire Council, Graeme Miller welcomed this funding, saying that Forbes has benefitted greatly under Round One of this program and further funding under Round Two will continue to help develop this growing regional town.
"This funding will go a long way towards providing upgrades to sporting equipment and building community facilities which are greatly needed and will support Forbes into the future," said Graeme.
Forbes Shire Council area will be granted to upgrade and fund community and local sporting facilities including:
• $1,019,734 to build and support a community focal point at Lake Forbes,
• $573,000 to activate Forbes Iconic Main Street,
• $150,092 for upgrades at the Wirrinya Aquatic Centre and
• $220,854 for a multi-purpose equestrian facility in Forbes.