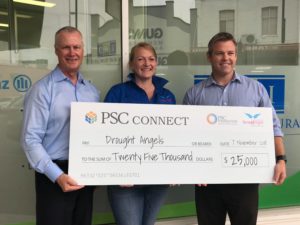 Each year PSC Connect Insurance Brokers hold a national conference for its network of insurance advisors across Australia and New Zealand. This year's conference was held in Sydney recently and through the generous contributions from delegates in attendance, a record $25,000 was raised for Drought Angels to support Aussie farmers.
"Our authorised representatives are widely dispersed across Australia and many have clients and personal connections that have been affected by drought.
We are proud to be able to do our bit to help out," said CEO, Tony Walker.
PSC Connect Authorised Representative and founder of Central West Insurance Group, Sam Hornery nominated the Drought Angels to receive the donation from this year's conference. "We wanted to be able to give something back to our Aussie farmers. The Drought Angels have done amazing work and I know that the funds raised will go to great use."
Lou Green from Drought Angels was on hand in Forbes to accept the donation. "We appreciate the continued support and donations from the Australian public.
Our farmers are so appreciative and overwhelmed with how the country has banded together to help support them through this unrelenting drought."