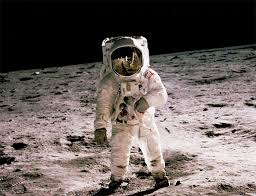 With the upcoming 50th anniversary of the Apollo 11 Moon landing on 21 July, the CSIRO and the National Film and Sound Archive of Australia have ensured the original TV broadcast will be preserved for future generations.
NASA gifted the only official copy of the footage held outside of the United States to CSIRO, Australia's national science agency, in recognition of Australia's crucial role supporting the Apollo 11 mission.
A new digitally restored version of Australia's official copy of the broadcast was last week donated to The Hon Paul Fletcher MP, Minister for Communications, Cyber Safety and The Arts.
The moon landing event, seen by over 600 million people around the world, would not have been possible without this strong US and Australia partnership.
Communicating with the Apollo 11 lunar module Eagle and sharing news of the 'giant leap' was made possible by the technology and teams at NASA's tracking stations at Goldstone, California and Honeysuckle Creek near Canberra, and CSIRO's Parkes radio telescope.
For the first nine minutes of the broadcast, NASA switched from Goldstone to the signals from Honeysuckle Creek. The strong signal being received by CSIRO's Parkes radio telescope was then used to share the remainder of the two-and-a-half-hour broadcast with the world.