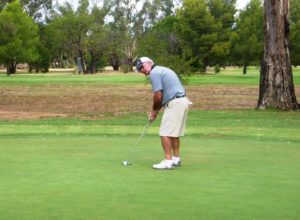 On Saturday the men's comp was the Monthly Medal 18-Hole Stroke, sponsored by Grayson, Earl, French and M Haley. The A-Grade was won by Parkes visitor, McGlashan with a 69 nett off a scratch round of 72. Runner-up and medallist, was Barry Shine with 71 nett, who has stories aplenty about his score. The B-Grade saw a runaway win by  Josh Coulthurst, finishing with a nett 66. Close behind was Garry Collits with an almost as good nett 67.
The C-Grade did well, where Robert Scott was the winner on 74 nett. Runner-up on count back, with a score of 75 nett, was Bruce Squires who edged out Bede Tooth with a better back-9.
The ball sweep went to 75 nett on count back, with recipients being: 66 – J Coulthurst; 67 – G Collits; 68 – M Spice; 69 – M McGlashan; 70 – N Duncan, B Carpenter, P Maher; 71 – B Shine; R Nixon, B Parker, J Haley, D Churchill; 73 – A Brownlow, D Rhodes, I Bown, P Duke, S Kirkman, M Collits. The NTP's went to: 9th – M McGlashan; 18th – K Sanderson.
Sunday's Stableford Medley had a small field due to Pennants duties and the weather. Peter Grayson had the best score with 35 points, but unfortunately there were no runner-up, ball sweep or any NTP's prizes. Sunday was the first round of the CWDGA Pennants 2019, resulting in a day of mixed results for our teams, who each played a Parkes team.
The Div 1 team had a solid win, defeating Parkes 4/1. S Betland and S Sallaway had big wins. The Div 2 team lost to Parkes 4/1, where Kim Herbert was a shining light with a win on the 20th-hole.
The Div 3 team also lost to Parkes, 3/2. The Div 4 team, with a few debutants, had a close 3/2 win over Parkes.
By Short Putt