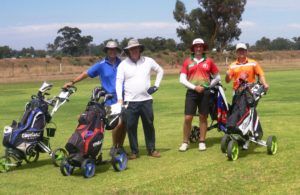 Saturday's event was the Monthly Medal, sponsored by Michael Robinson Real Estate, and was contested by a field of 73. Forbes also hosted the Parkes Club for the Twin Towns and the CWDGA Pennants. The A-Grade winner was Mark Collits with a nett 69, on count back from Todd Callaghan, also on 69. Phil Maher was unlucky to miss out on count back also. The B-Grade produced the best round of the day with Barry Shine recording a nett 65. Slightly behind, was Niel Duncan with 67. The C-Grade was clearly won by 'Adam'
Andrews with 67 nett. Runner-up was Richard Smith with a 71, who continues his steady form.
The ball sweep went to 73 nett on count back, being distributed to: 65 – B Shine, 67 – N Duncan, A Andrews; 69 – B Everest, B carpenter, M Collits, T Callaghan, P Maher; 70 – C Barrett; 71 – R Smith, L Little; 72 – A Davies, D Churchill, B Slack-Smith, L O'Connor, D Earl, K Herbert; 73 – M Watts.
The NTP's went to: 9th – Martin Woods; 18th – R Webb. The visitors included Ben Mackay (Bathurst) getting a practice round in and Stuart Hayes (Murrumbidgee), who kept Bob Grant on his toes.
The Parkes Club was closed for the day, so the Parkes players had their own comp at Forbes. The club captains used this opportunity to feature the running of the Twin Towns Shield. This was run over three men's grades, a ladies grade and a vets grade. The best five nett score cards in each grade were collated for an overall score. Forbes were the resounding winners, finishing with a healthy margin of nearly 100 points.
On Sunday, 4th February there was no regular Stableford Medley as Forbes hosted  the CWDGA Inter-Club Pennants. There were 70 players from Bathurst, Cowra, Duntryleague and Parkes clubs, playing across four divisions. They were all trying their best to help their team make it into the semi-finals. As Forbes was the host, their teams did not compete on the day.
Some divisions had clear winners already while other divisions were on a knife edge. The end result of five weeks of round-robin play is that the Forbes Division 1 and Division 4 teams have made it to the semi-finals. Parkes teams won the Division 2 and Division 3 groups.
The semi-finals being contested by Forbes teams will be run at Duntryleague on Sunday, 11th March, where coincidently both teams will face opponents from Dubbo. The Parkes teams will face their opponents at Dubbo.
Saturday, 10th March is 'Pink Day' at the Forbes Golf Club. Players are encouraged to wear something pink in support of the Forbes Breast Cancer Support Group and to provide a donation on the day. Let us really make the course stand out!
The LVDGA Veterans AGM will be held on 15th March at the Golfie Hotel, commencing at 9.30am. This will be held before the 18-hole event scheduled at Forbes that day. Players are requested to bring a plate for morning tea.
By Short Putt