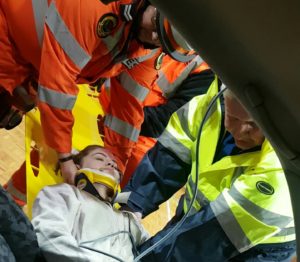 It is a sad reality that young drivers are involved in 25% of crashes on roads within the Forbes, Parkes, and Lachlan Shire Council areas.
The mock crash demonstration is the major strategy of the NOT A STATISTIC! Youth Driver Education Program, developed in response to crash statistics across NSW, and aims to improve the attitudes and behaviours of young drivers and passengers.
Parkes, Forbes and Lachlan Shire Councils' Road Safety and Injury Prevention Officer, Melanie Suitor, invites locals to find out what the annual mock car crash demonstration is all about by attending the last dress rehearsal on 21 August at 7pm at Parkes PCYC.
"We are excited that this is the third time we have offered this experience to locals. In the past we received requests from people who wanted to see the demonstration and we've also found that having a live audience lifts the performance from our actors," said Melanie.
"The demonstration is as close to the real thing as it can be. It starts with a short film that sets the scene prior to the crash occurring and proceeds with the mock demonstration, which is a full emergency response involving NSW Police, NSW Ambulance and Parkes SES," she said.
Local youth actors will play the crash victims and local emergency services will perform their usual tasks. The demonstration concludes with victim impact statements recorded by the crash victims six months on from the crash.
"The run time is around 60 minutes. There's no need to book – just turn up, " Ms Suitor said.
"It is important to remember that the content is not suitable for children under the age of 15," she added.
Over 500 students from nine high schools across the three Council areas will view the mock crash demonstration on Thursday 24 August.