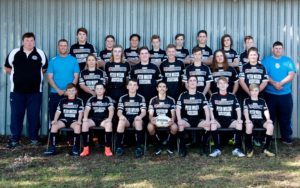 The Forbes Magpies Junior Rugby League under 14's team has made it all the way through to the Minor Premiers 2018. The Magpies will meet Red Bend in the grand final at Spooner Oval on Saturday afternoon.
"The boys have had an extremely successful year, with all growing as players and as young men," according to Coach Chris Butler. "Their confidence and ability as a team is impressive," he said.
A real team effort in 2018 has seen this team struggle with their fair share of setbacks and injuries. They became Minor Premiers for the second year in a row after a big win against West Wyalong on Saturday, 11th August, in front of a home crowd.
Now with a home ground grand final booked the excitement, anticipation and suspense was apparent at training on Tuesday. The boys were trying to remain calm and treat it as just another training session but with special attention from supporters and members of this wonderful club the change in mood was evident.
Speaking with supportive mums, Tracey Bray and Lisa Glasson, this excitement and anticipation was confirmed with both mums saying that their boys where extremely focused and excited. Both mums wanted to wish the team the best of luck and said, "We know you can do it!'".