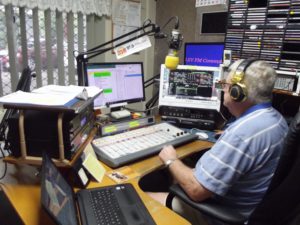 Lachlan Valley Community Radio is having an open day on Sunday, 23rd September at 11am at their studios on Parkes Road, Forbes. The entire community is invited to come along and show support for 'your local station'.
This is the perfect opportunity to have a look at the station's studios, say "hello" to the announcers and put a face to the voice.
There will be a sausage sizzle, as well as plenty of finger food, cakes, slices, tea and coffee.
Please RSVP by Thursday, 20th September to 0428 662 549 or 0498 132 758. Alternatively send an email to: a97.9fm@outlook.com.
The station was established in 1992 for the purpose of presenting alternative music and news programs to those presented by the ABC and other commercial radio stations.
The studio is based in Forbes and the listening area is predominately the Forbes and Parkes Shire area, including all other surrounding areas.
The station is completely run by volunteer staff, with the exception of one part-time office lady. There are around 28 volunteers on the announcing staff who do regular time slots each week. The announcers provide 15 hours of live programs each day, all voluntary. The total volunteer force is around 35 members.
Keeping the station on air is very costly. There are many licenses and permits required to comply with all government regulations, including other running costs.
The station's main source of income comes from sponsors who advertise on the station. The annual member's contribution also helps keep them afloat. Why not become a member? Membership is very cheap at only $10 per year or $15 per couple.
They are also always looking for sponsors support. Your advertising has the potential to reach a listening audience of around 30,000 people at a very reasonable cost.
Please contact the station if you would like more information.