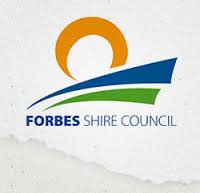 Wasn't the weather on the weekend great? It was so nice to sit in the sun and feel alive again. The sun didn't last long though with more rain upon us. Just a reminder for when you are driving around the shire, there are a number of roads that have been affected by rain creating soft edges and potholes so please make sure you travel with care. We will be completing the repairs as quickly as possible.
Our July meeting was held this week and it was our new General Manager Danny Green's first Council meeting since arriving in Forbes. Please mark Wednesday, 3rd August in your diaries as we are having a welcome function for him at the Forbes Services Memorial Club from 5.30pm to 7pm.
This is a great chance for everyone to come along and say hello, enjoy a nibble and drink. Everyone is welcome, please RSVP for catering purposes by calling 6850 2361. Another event to mark in your calendar is the Forbes NAIDOC Week celebrations on 23rd August. NAIDOC Week is a great opportunity for everyone to come together and celebrate with our traditional owners as one united Australia.
As you know, the Census is being conducted on 9th August and field officers are still needed for our area. If you are interested in these paid positions visit www.abs.gov.au. Last Thursday, Evolution Mining announced $12,500 in funding for Forbes Wheelchair Basketball. This is fantastic news and will allow for five specialised wheelchairs to be purchased as well as other equipment.
Have a great week, stay safe and God bless.
Mayor, Cr Phyllis Miller OAM