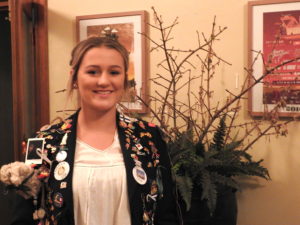 Seventeen-year-old Mathilda Stade from Germany is about to complete 12 months as a Rotary exchange student in Forbes.
She is one of thousands of young people worldwide to have been given the opportunity to experience the cultures and accomplishments of people in other countries over the past year.
During her stay, Tilly – as she is known to her host families, friends and Rotary members – has experienced life as a teenager in the Central West, attending Forbes High School, and participating in everyday activities with her host families.
She also recently enjoyed a three-week tour of some of Australia's most interesting places with other Rotary exchange students, which included stops in Melbourne, Coober Pedy, Alice Springs, Uluru and the Great Barrier Reef.
Tilly said being an exchange student encouraged her to develop an open mind. "I have learned a lot about a different culture, and made a lot of friends."
When asked about differences between life here and in Germany, she said: "In Germany we don't have to wear a uniform to school. I like that I have to wear a uniform here. It means I don't have to think about what to wear."
Tilly has a favourite jacket that has the image of an Australian flag on the back and is decorated with souvenirs from her travels here and in other parts of the world, including a tuft of raw wool from her first sheep- shearing experience.
She can't wear it for long because it has become quite heavy, but it is obviously a favourite item.
Talking about returning home to Germany later this month, Tilly reveals mixed feelings. "I will be glad to see my family, but I will miss everyone here," she said.
"I will definitely come back."
By Rochell Bright