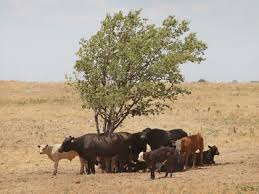 Conditions across the Central West continue to deteriorate with below average rainfall forecast for the next three months.
With many producers now hand feeding their remaining livestock, Central West Local Land Services staff are urging them to ensure they are constantly looking at the current and future cost of inputs to ensure they can make informed decisions around livestock management.
"Things are tight for producers. It's important that they have a clear understanding of the cost of feeding stock so they can make an informed decision about if or when to sell," said Central West Local Land Services Condobolin based district vet, Hanna Thomas.
To support landholders in the decision making process, Central West Local Land Services have partnered with RaynerAg and Landcare to roll out a series of workshops.
The workshops will allow producers to look at planning a cash flow budget to readjust strategies based on feeding or selling for the remainder of 2018, resource budget of feed and water based on requirements for stock and resetting key trigger points for livestock.
"Producers are under pressure at the moment and many are time poor due to their feeding schedule. These workshops are a great opportunity for them to stop and evaluate the financial impacts of feeding livestock and help them allocate limited resources effectively," said Mel Kiel, Project Officer with Little River Landcare.
The free workshops will be held across the region throughout August. The Forbes workshop will take place on Tuesday, 21st August at the Forbes Inn Hotel from 12pm to 4pm. To attend, please contact Mel on 6846 4569 or projects@littleriverlandcare.com.au.
To find out more about these workshops or other Central West Local Land Services events, visit centralwestlls.nsw.gov.au