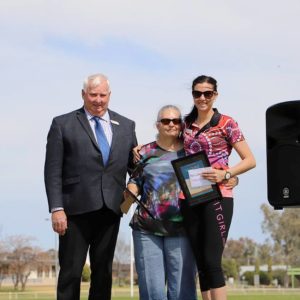 Codie Smith and Joy Russell were named joint winners of the '2018 Person of the Year' award at last Wednesday's Naidoc Day celebrations. These two not only share the award but also a special bond that has been formed through a history of trying times.
For Codie it hasn't always been smooth sailing. She has been working at the Forbes Preschool for the past three years. Codie came to the preschool through a recommendation from Joy who was the Aboriginal Liaison Officer at the high school. From all reports the young Codie was not a star student.
As a 14 year old girl, she was kicked out of home, felt alone and unmotivated. She had been suspended over 20 times and was nearing expulsion.
Joy assured Forbes Preschool director, Amy Shine that she was great with kids and just needed a go.
"We decided to put Codie on a traineeship and that she would complete her Certificate III before moving on," said Amy.
Codie successfully completed this and formed positive relationships with preschool staff, Tafe teachers and the many families and children at the Preschool.
"Therefore, we quickly signed Codie up for another year of study to complete her diploma. She completed this in record time and her relationships continued to grow. She is now a valued educator of Forbes Preschool.
"I talked with the head Tafe teacher to see if she thought Codie would have the ability to successfully complete university. She applied for a scholarship to study her teaching degree and was successful!" said Amy.
Since then Codie has completed four subjects and has not only passed but is gaining distinctions. Codie is recognised as a leader in her field and will be presenting her story at the upcoming Bangamalanha conference in Dubbo.
At the Preschool Codie is the 'go-to-girl' for IT issues, referrals to families, her ability in the art department and not forgetting her athleticism.
She is the secretary of the AECG and supports the NInganah No More Project that the Preschool runs. Codie home visits the ATSI families and was integral in getting signatures for the Jenny Murphy Park.
"Codie's story is a credit to how positive relationships in our community can support people to succeed. I look forward to watching her continue to grow and inspire others," said Amy.