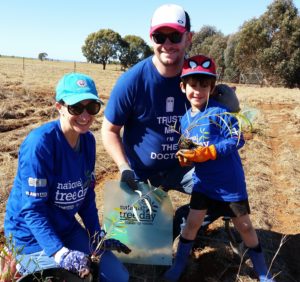 Around 14 locals joined Central West Lachlan Landcare (CWLL) in beautiful weather for the Forbes planting event for Planet Ark's 22nd National Tree Day on 29 July. Nationally, Planet Ark estimates over 250,000 people took part at over 3,000 planting sites – with results still coming in – run by councils, schools, environment and community groups and Toyota Dealers across the country, planting close to one million native trees, shrubs and edibles and helping to beautify their local communities.
The green-thumbed volunteers in Forbes planted and mulched over 100 trees in the picturesque setting, just off Bedgerabong Road. This is a portion of a larger planting that will be undertaken in the area. When the planting was complete, volunteers enjoyed lunch together and had a chance to catch up and reflect on the work completed.
"The volunteers did a fantastic job and it was wonderful to have their presence at National Tree Day. We are pleased to have such a wide age group joining us and contributing to the project," said Marg Applebee, Co-ordinator for CWLL. CWLL have been fortunate to have the support of Forbes Shire Council and Toyota to bring NTD to the Forbes Community. CWLL and the Skillset Green Army Team will be continuing planting work in this area over the weeks ahead.
A big thank you to all of the Volunteers who make National Tree Day possible.