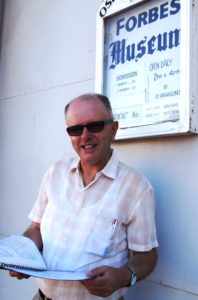 Forbes local, Shane Wode has just finished writing a book on the history of the streets of Forbes. The inspiration to write the book came to Shane after Liz New, a member of the Forbes and District Historical Society, suggested he take on the mammoth task.
He started working on the book approximately nine years ago and has just completed the final page. Still in its draft form, 'The History of the Streets of Forbes' will soon be printed and available for people to read.
"In writing this book, I have found researching the history of the streets of Forbes very interesting although it has taken me some time to research and I have only concentrated on the urban streets," said Shane.
According to Shane, one of the most interesting things that he found during his research was the area in South Forbes. "It was named Poverty Point due to the fact that all the poor people lived there, now more wealthy people live there."
Readers will also notice that a number of the streets have a theme such as English names, women's names, livestock names and so forth.
Shane makes mention that the book would not have been possible without the assistance of the many people who gave him information.
By Gizell van Wyk