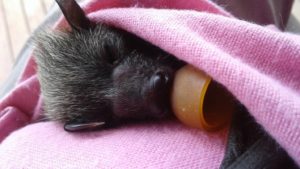 The local WIRES branch has been busy with a seasonal influx of microbats and flying foxes.
Recently, a local resident called for help with 22 little forest bats which were roosting in a pool umbrella when it blew into the pool.
An orphaned grey-headed flying fox baby, nine days old, was found by another local resident with injuries from a raptor (bird of prey) attack.
All are recovering in the care of WIRES members and will eventually be released.
WIRES assists all orphaned, injured or displaced native fauna and they are currently in need of more local members.
Anyone interested in joining the Weddin Lachlan WIRES team can attend the next WIRES RICC (Rescue and Immediate Care Course) to be held in Cowra on Saturday, 17th March. For more information please email training@wires.org.au to register. The course includes an online theory component which is completed prior to attending the course.
If you find a sick, injured or orphaned bat or flying fox, please do not attempt to handle or catch it yourself as there is a potential health risk. Please call WIRES on 1300 094 737 immediately with the location details and they will facilitate a rescue by a trained and vaccinated member.
If you find an injured animal or bird, please call WIRES or 'Report a Rescue' following the links on the website www.wires.org.au.