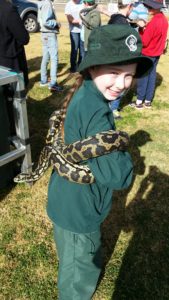 Over 60 Stage 3 students from Parkes and Forbes Shire schools joined together to celebrate Schools Tree Day at Eco Day 2017 last week.
Through Eco Day, Central West Lachlan Landcare (CWLL) provides workshops and bus travel to school representatives from years 5 and 6 from Parkes and Forbes Shire schools so that they can be involved in a variety of environmental and rural related activities.
Student representatives attended workshops including; making NetWaste Worm Farms; plant care and propagation with Bunnings; soils with Local Land Services; Parkes Shire Council weeds demonstration and talk; lantern making with recycled products with Ro Burns; and a saleyards tour with Cooper Byrnes from Langlands Hanlon.
The day finished with a "hands on" workshop from Paul Kirk (AKA The Snake Man), and an interactive workshop with Chris Dart from Netwaste, who talked about ways to reduce the waste that goes to landfill. Paul Kirk allows the kids an opportunity to get up close with the reptiles. He talked to the kids about snake safety and how to handle non-venomous snakes. The kids also learn what to do if they are bitten.
"We want the kids to go away thinking about what they can do at home and school that can make a difference and prevent wastage. We hope they leave with a wider perspective of the connection between humans and the environment," said Margot Jolly, CWLL Chairperson.
CWLL Co-ordinator, Marg Applebee said, "Eco Day is not possible without contributions from many people. We are grateful for the support of Parkes and Forbes Shire Councils, Skillset Green Army, and schools from Parkes, Forbes and Eugowra."