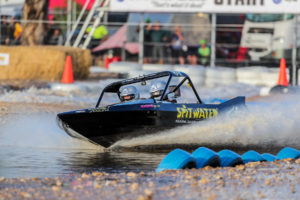 Forbes speed racer Justin Roylance and his team will compete in round four of the Australian V8 superboats championship in Tweed Heads this weekend.
Justin will race a new boat, The Outlaw, with Michelle Hodge in the navigator's seat. The Outlaw packs around 700 horsepow- er and can reach 120km/h in just under two seconds, so driver and navigator need to be
reasonably fit, and safety gear is a priority. "It is certainly a rush. You're pumping yourself up for a 45 second dash," said Justin. "This weekend we race both days. Saturday is practice and qualifying, and Sunday is our big day."
For those interested in following the excitement, the races will be streamed live on the V8 Superboat page on Facebook.