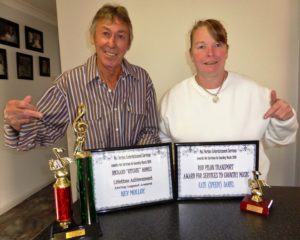 The second Macquarie Inn Dubbo Country Music Spectacular and Awards organised by Mal Norton Entertainment, was held during June and three of our very own local country music artists were a stand-out.
Forbes-born musician, Nev Molloy was acknowledged with the Richard "Ritchie" Homes Lifetime Achievement Living Legend Award. Kate (Speedy) Daniel from Bogan Gate received the Rod Pilon Transport Award for services to country music and Forbes' Charmaine Pout was awarded the Split Image Audio Award for services to country music.
The event was hosted by Peter Leslie with some of Australia's biggest artists performing in front of masses of people.