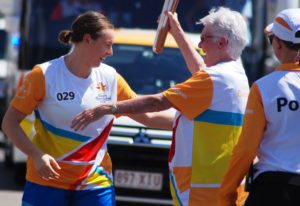 The Queen's baton was warmly welcomed in Forbes on Monday, marking 35 days since arriving in Australia and its epic journey to arrive at the Commonwealth Games on the Gold Coast in April 2018.
Mixing things up from traditional relay mode, the baton travelled by unique modes of transport in Forbes.
Of 40 countries, Forbes was the only place that had the Queen's baton set off on a dragon boat. It glided down Lake Forbes with baton bearer Wendy Green on board.
The unique modes of transport continued with Ethan Markwort holding the baton whilst doing a skateboard demonstration at the Forbes Skate Park.
Australian Commonwealth Games sporting royalty Phil Adams OAM, who shares the record for the most medals collected by an athlete at the Commonwealth Games with 18 medals, was one of the 14 people nominated to carry the baton in Forbes.
Lauren Neilsen from Forbes, also carried the Queen's baton in Parkes.