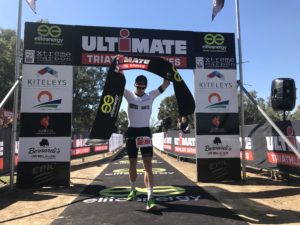 Close to 300 athletes competed in the six races of the new look Forbes Triathlon last weekend, which now forms part of the NSW Tri Series.
In the longest of the six contested dis- tances of a 1.9km swim, 90km bike ride and 21.1km run, Nick North from Bathurst won in a time of 4.00.48 with Rhys Clarke (4.06.46) from Werombi second and Leigh Chapman (4.12.00) of Penrith third. Nick said he was grateful to have a race in his own backyard.
In the Women's Ultimate distance it was Jessica Richards of Orange that took the win in a time of 4.37.43 ahead of Alex Larkman (4.47.41) of Bondi and Shannon Chapman (4.52.35) of Mudgee in third place.
Jessica said the course was deceptively tough with winds increasing in the afternoon and the flat topography of the bike leg meant there was no rest on downhills as there was on other courses.
Saturday's event was made possible by droves of volunteers to raise funds for local community groups and charities. "The Forbes triathlon festival is only made possible by the hard work of our fantastic volunteers," said Jody McClaren the volunteer manager at Elite Energy.