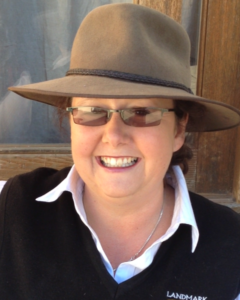 Local agent for Landmark Harcourts, Ainslie Toole was recognised for her exceptional rural property sales results over the last year at the recent National Real Estate Conference & Awards held at the Gold Coast in Queensland.
For the last quarter, Ainslie has been named number one agent in Australia for Landmark Harcourts. Not only this, but for the last year she has been placed in the top 10 nationally, finishing sixth. It comes as no surprise then that she has also been named three times the number one sales agent for NSW.
Ainslie has been selling rural properties in the Forbes and surrounding districts for 20 years. She has sold almost 300 farms in the area; some of these she has sold multiple times.
"Repeat business like this, is the biggest compliment you can give an agent," said Ainslie.
Ainslie remembers 2008 as the biggest year, when she sold 28 rural properties in just 12 months. "This was in a time when we thought we were short of listings. It wasn't a great season. We were still in drought but the livestock, particularly sheep prices were at record highs and interest rates had dropped to record lows," said Ainslie.
Ainslie says she never planned on being a rural property agent. "When I returned from working and living in England for a few years, I wanted to move back to Forbes so I applied for every job that was available.
My first day back, I had the interview and the second day I was in Sydney doing the training. I started selling farms with an English accent which confused most people."
Ainslie has had many highlights over the last 20 years of her career. "It is obviously exciting to win state and national sales awards and to be recognized amongst your peers but some of my fondest memories are where we sold some of the tougher listings that created challenges."
"When I started, I sold a small farm on the edge of town that for as long as I could remember had been for sale. I've had buyers that it took up to seven years to find the right farm and since, they have bought three more through me," said Ainslie.
Through her work, Ainslie has met a lot of very interesting people. "I have met a few famous people and made many friends over the years. There aren't many country roads that I haven't been down in the district."
Ainslie feels that whilst she works in what is still a male oriented industry, she has never seen that as a disadvantage… until she needs to change a tyre! She grew up on a local family farm and started helping out as soon as her feet could reach the pedals. She typically did all the choice jobs that no one else wanted to do such as chipping burrs, drenching sheep and raking hay. So this, combined with 11 years as a trainee and retail manager in Sydney and England after leaving school, meant she was ready for a change.
Ainslie admits that real estate isn't always as easy as it looks. Her phone typically rings non-stop from 7am to 9pm and sometimes even later with the finalising of a sale.
"That means we don't ever go home and finish for the day."
"I have met all our top national and state high achievers by attending the National Conference & Awards previously, so I have colleagues and friends that I can converse with all over. This has helped a lot."