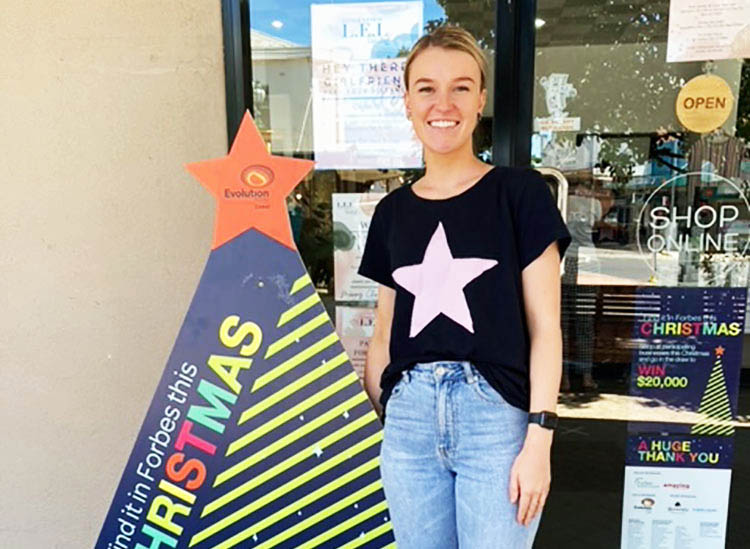 Draw number five took place last week. Supervised by the lovely staff of Cahills Shoes, a winning ticket came out of the big bin, revealing Harry Gault as the winner of a $500 Why Leave Town Card. There are only two more draws before the major draws take place on Thursday, 24 December 2020.
"We are delighted with the Christmas window decorations, thanks to all of the entrants for this years' competition," said Forbes Business Chamber President, Marg Duggan. Voting for the Viewers Choice is underway with everyone in the community being urged to vote using the Forbes Business Chamber Facebook page.
"I would like to thank Matt Hunter and Jay-Lee from Hunter Real Estate in Parkes for their support in allowing us to use empty shops for displays. The displays have certainly been the focus of favourable comments from the public," said Marg.
Next week the Forbes Business Chamber and Forbes Shire Council will partner to add another exciting activity to the Christmas program, Find The Elf In The Shop, which will encourage children, youth and adults to wander through the CBD and seek out an Elf that is hidden. Forbes Council has provided three $100 Why Leave Town cards for the winners. "This treasure hunt is taking place from 14 to 21 December, the community has to identify 20 stores with an Elf in their front window or in a prominent position that is visible during and after hours," said Marg.
Clues will be printed on the back of the entry form. When the Elf is found, the details of his whereabouts are to be completed on the entry form. Entry forms can be collected from News On Rankin, Undercover Sleepwear, and Allure on Main from 14 December. Completed forms can be handed into Made Of Fridays by 21 December.