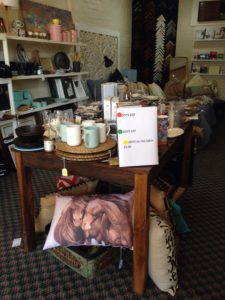 The One-Stop Fashion Shop
Little Extras is excited to announce its new season fashion arrivals. New labels are arriving daily leading into the new spring racing season.
Brighten up your day with labels such as AKA, Sticks & Stones, Rollies and the beautiful scarf brand Frontrow Society, that can now be seen in store. Home of Raw wire wrapped crystal jewellery also on shelves ready for you.
New season trends are lending towards beautiful detailed sleeves in pastel colours with blush and soft pink still featuring strong. Also in stock are some favourite comfort brands such as Elm, Eb and Ive, Mink Pink and Mavi & Riders.
Don't forget to grab a bargain at the 70% off winter clothing and footwear final clearance sale. Please call in and see one of the friendly girls for assistance with all your fashion and accessory needs.
Coloured Dot Sale At Painted Daisies
Painted Daisies Gift Shoppe is having a massive clearance sale on homewares, pillows and more today and tomorrow. Treat yourself, a friend or that special someone to beautiful gift items at affordable prices.
Sale merchandise is priced with coloured dots. Items marked with a red dot are selling at $20, green dots selling at $10 and yellow dots selling at $5.
More sales are on in-store with great prices to be found, including a selection of well-designed and practical products. You'll be amazed at what you can find!
The India jute rug, a beautiful laundry basket, vases, cowhide bags and eye-popping candles reusable as succulents or as a cup are among the exquisite goods sold in this gem of a shop!
Take time this weekend for a browse – you might just find what you have been looking for or surprise yourself with something new. The sale ends tomorrow.