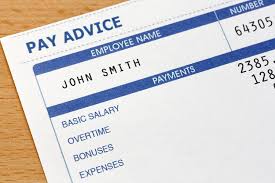 Industrial Law…Payslips
Is your employer complying with the Fair Work Act and its regulations in providing payslips with the correct information.
Payslips are required to disclose:
• the employer's name and ABN;
• the employee's name;
• the date of payment and pay period;
• the gross and net amount of payment;
• any loadings, monetary allowances, bonuses, incentive based payments, penalty rates, or other separately identifiable entitlement paid;
• If the employee is paid an hourly pay rate, the ordinary hourly pay rate and the number of hours worked at that rate and the amount of payment made at that rate;
• If the employee is paid an annual rate of pay (salary), the rate as at the last day in the pay period;
• Any deductions made, including the name, or the name and number, of the fund or the account of each deduction including superannuation contributions for the benefit of the employee and the name and number of the fund.
Payslips maybe sent electronically to the employee provided it complies with the above and the employee agrees to such electronic posting.
Employers are also required to keep records of this information for at least seven years and a Fair Work Inspector has the right to inspect such records without any search warrant.
It is an offence not to comply with these requirements and an employee may be able to recover not only any back pay but may with the court's approval recover the fine from the employer in some circumstances.
If you have questions on Industrial Law or anything else, please contact any of our solicitors at Matthews Williams.