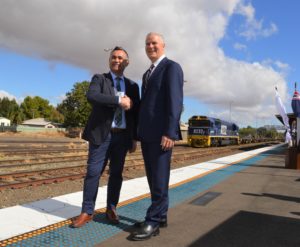 The Federal and NSW Governments signed a landmark bilateral agreement, which makes way for the commencement of works on the multi-billion dollar Inland Rail project in NSW.
Deputy Prime Minister and Minister for Infrastructure, Michael McCormack and NSW Deputy Premier and Minister for Regional NSW, John Barilaro signed the Intergovernmental Agreement at the Parkes Railway Station last Friday.
NSW is the second state to sign up to the nationally-significant project. The new agreement provides consent for the Australian Rail Track Corporation (ARTC) to deliver Inland Rail in NSW.
Deputy Prime Minister Michael McCormack said the signing of the bilateral agreement was a landmark moment in the delivery of the project. "Inland Rail will be a corridor of commerce for communities along the eastern seaboard and this agreement is another vital step in making its vision a reality."
He said 60% or 1,050km of the line will be in NSW linking up the ports of Melbourne and Brisbane boosting the state's gross domestic product (GDP) to $2.6 billion per year.
Deputy Premier Barilaro said the project would not only grow regional communities and bring additional government services, but also reduce congestion on roads. "Inland Rail has the potential to completely reinvigorate parts of regional NSW, well beyond the thousands of jobs that will be created in the construction phase," he said.
"This is all about helping NSW farmers get their product from paddock to port as cheaply and efficiently as possible, and in turn, putting money back in the pockets of those producers to reinvest in their businesses or spend in their regional and rural towns.
"What this agreement shows is that across all levels of Government, there is a commitment to invest heavily in our regions, and a commitment to co-operate to deliver a transformational project not just for NSW, but for the country."
Construction on the Inland Rail project is due to commence within six months on the Parkes to Narromine section with 14,000 tonnes of steel rail delivered at Peak Hill in January.
The project will create a direct rail freight connection between Melbourne and Brisbane capable of moving double stacked freight containers of up to 1.8km long at speeds of up to 120km/h.