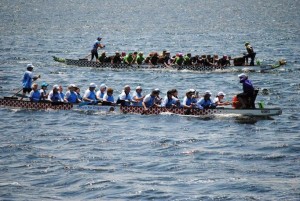 Lachlan Dragons were well represented on Chifley Dam at Bathurst on Sunday October 18 to compete in the Bathurst Bicentenary Dragon Boat Challenge. The club was represented in the Mixed and Women's divisions and combined with Bathurst in the Men's 10 event.
Our paddlers, drummer and sweeps faced very trying and exhausting conditions on the day with the wind blowing hard and the water being extremely choppy. Everyone on the boat experienced conditions not seen before, but a busy days racing went ahead with only the last round of heats being called off.
Lachlan Dragons Mixed and Men's 10 had good times in their heats and made the finals, with the Men's 10's securing
silver and the Mixed team bringing home bronze. The Women's team first heat did not go to plan, with the boat needing to be stopped twice during the 200 metre race.
In their second heat the Women paddled well, but it was not enough to place them in the final. The club will now focus its training on the Orange Regatta to be held mid-November on Lake Canobolas. Team coach Michael Ryan said that the race times from Bathurst show that the work all paddlers are putting in at training, was reflected in the
great results.
Club President Bill Thomas said all members are now very keen to put their paddling skills to the test in Orange next
month. We will be training Thursday evenings and Sunday mornings to hone our skills and increase our endurance Bill said. Before the Lachlan Dragons head to Orange Regatta, they will be on Lake Forbes during the River Arts Festival. The boats will be out on Saturday during the day and evening. Anyone interested in paddling will be able to 'come and try' at the festival.