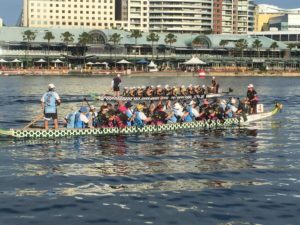 The Lachlan Dragons competed at Syd- ney's Darling Harbour last weekend in the Chinese New Year regatta.
Fourteen paddlers made the annual trip to compete in the premier, mixed and wom- en's races. They were joined by the Orange based Pinnacle Dragons to fill the boat.
First timers Mary Laksito, Liz Mitchell, Chris Kronenberg, Bev Pengilly and Ainslie Toole were joined by old hands Warren Ed- wards, Donna Edwards, Beth Thomas, Bill Thomas, Robyn Stephens, Neil Stephens, Deb Abela, Deb Tooley and Deb Churchill.
Although the team didn't gain a place in any of the finals, the squad performed bril-
liantly in balmy 39 degrees Celsius. They finished five of the seven races in sub one minute time for the 200m events.
Next month the Lachlan Dragons will com- pete in the Canberra regatta, once again combining with Colour City Orange pad- dlers in the mixed team.
Six Lachlan Dragon club members have gained selection in the Western Region team. They will compete at NSW Champi- onships on 26th March in Penrith. Congrat- ulations to Helen Rowbotham, Claire Davis, Carmen Stephens, Beth Thomas, Rochelle Smith and Warren Edwards.
By Chris Sweeney